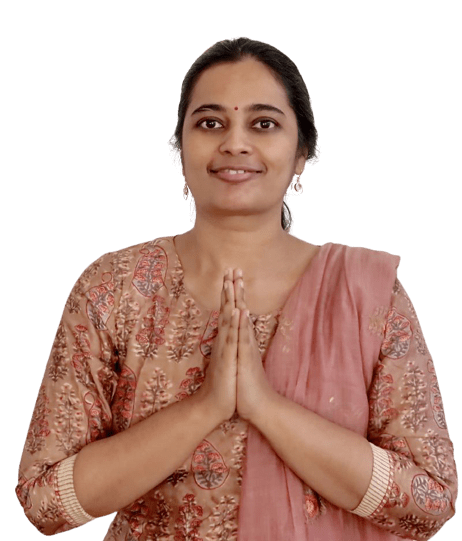 I am Shubha and I am here to help you or your kid to learn the Sanskrit language and understand Sanskrit works easily and happily.
Knowing Sanskrit will help you understand the meaning of shlokas and many other things. When kids learn Sanskrit they get connected to their culture and this will keep them grounded which in turn helps them reach great heights in life and yet stay humble.
Who am I

and why am I here?
Namaste. I am a native Sanskrit speaker. My mother Dr.Rupa is a retired professor and Head of the department of Sanskrit in Mysore university. She has authored many books and won many awards. She is extremely passionate about Samskritam and hence made it a point to speak to her children only in Samskritam. From the time I started speaking, she spoke to me in this beautiful language and even to this day I converse only in Samskritam with my mother and sister. So, I can confidently say that my mother tongue is Sanskrit.
I have been learning Samskritam from my mother from a very small age. I have done M.A in Sanskrit from the Karnataka State Open University. Though I have been teaching Samskrit from my high school days, I took up Samskrit teaching formally when I joined Akshar Centre for Education, a waldorf school in Chennai.
I founded Tattvam in 2018 and from then onwards I have been teaching Samskritam online to small groups of people. I have so far taught Samskritam to about 700 kids and adults. I find great happiness in seeing my students speak and understand Samskritam.
I am now teaching Samskritam online to the kids of Pokhrama Foundation Academy, an NGO in the Pokhrama village of Bihar, which strives to provide quality education to the kids of this village.
I am also the Samskrit Acharya in Agasthya Gurukulam.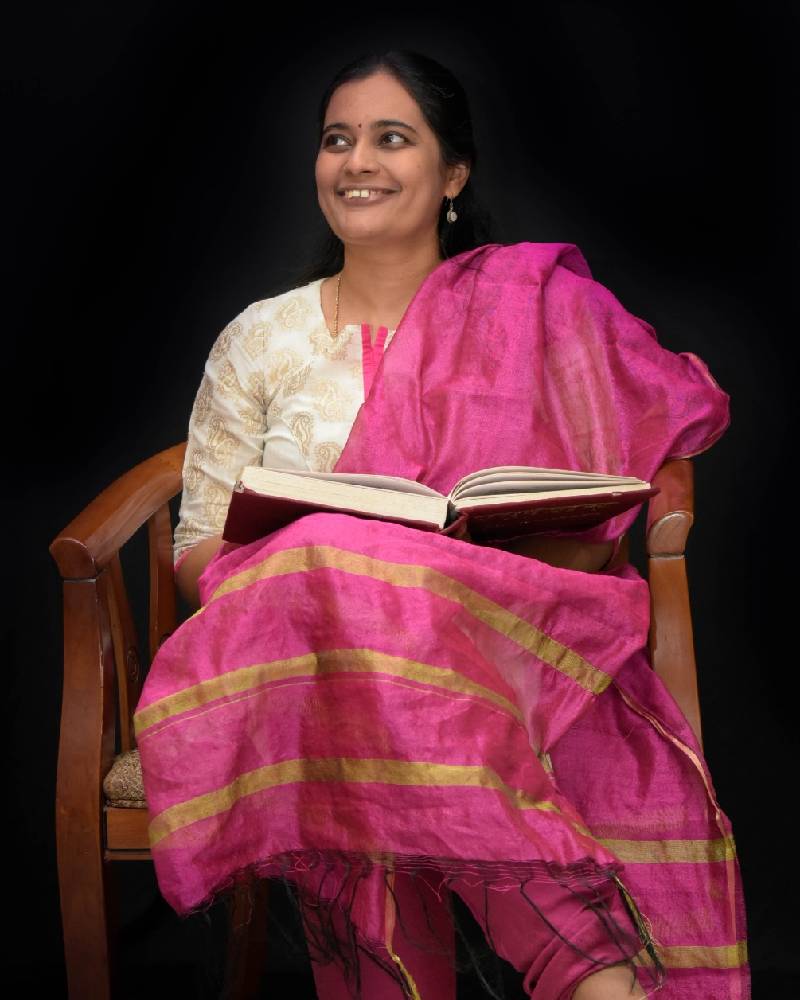 Here is a small gift from me to you.
This is a simple e-book for beginners where I share on what is the best way to learn Sanskrit. I have given some shlokas with meanings, some basic conversations in Samskritam, new Sanskrit words to build your Sanskrit vocabulary, some subhashitas (good sayings) and the very basics of Sanskrit grammar. I hope you like this gift.
What Students

Say about my classes
Samvaadashaalaa – A Speak-Sanskrit initiative
Every Thursday 8.30 to 9 p.m IST I have an open club for people to just come and speak in Samskritam. You need not be very fluent. The more we speak in Samskritam the more fluent we will become. So this is just a practicing arena. Even if you do not know to speak but would just like to listen to some Samskritam then you are most welcome to join us. This program happens on my Youtube channel through Youtube live. So please subscribe to my channel so that you will be notified when the live happens.
I will be posting the topic of discussion on my Facebook group. So kindly join my Facebook group as well.
Sanskrit Story

book for beginners
I have published 2 kindle e-books for beginners. There are story books which contain small fables. The stories are given with pictures and in both Samskritam and English. At the end of the book a glossary of some difficult words with their meanings is also given for reference.
Written testimonials

– from students
"Natural-born teacher and excellent Sanskrit speaker; Her virtue as a Sanskrit teacher is that of a careful and devoted listener in the first instance, but mainly the fact that she learnt the language naturally from her childhood, from a reliable, expert source belonging to the academic sphere of the highest level. Being already professionally experienced in teaching at a renowned educational institution, and having acquired deepest knowledge of the language by further studies, Shubha is highly qualified for helping anyone in either learning Sanskrit as a young beginner or else improving and refining your skills at higher stages. Her methods are fresh and creative, providing an enviable learning atmosphere and focused on helping you speak fluently. I honestly recommend her for tutoring. My experience has been more than satisfactory."
"Shubha-Ji is an excellent Sanskrit teacher. He knowledge of Sanskrit language is incredible. She speaks, reads and comprehends Sanskrit at a native level and has an excellent grammar. She has tutored me online for the past two years and her instruction has been invaluable to me in my formal in-class study. Perhaps most importantly, her teaching style is very in sync with the needs of her students. She is able to provide instruction as needed as well as allow questions to arise as they occur in our reading sessions. She is extremely patient, allowing me to read at my own pace and does not get agitated when I don't master a concept quickly. After going through several tutors, I can say this aspect of her instruction is critical. I would highly recommend Shubha-ji for anyone considering Sanskrit instruction."
"My guru Shubha is a person who is well versed in our very own Sanskrit language. She is a very patient, which is a very important attribute in a teacher because as a beginner I had lots of doubts and I took time to pick up the language. She used to be very encouraging and cleared all my doubts, and also taught me in my pace. I could learn the basics of reading , writing and speaking in Sanskrit. I couldn't continue my classes further but I wish I can learn this beautiful language in future. Shubha is a great teacher , friendly person and I wish her all success. Hope many students learn under her Sanskrit. Thank you. "
"Shubha is a very lovely, patient tutor. Always helps us with a smile & patient enough to reply to all my queries. As I do travel a lot couldnâ??t attend most of the classes but was able to manage with the recorded video sessions sent by Shubha to me. I really enjoyed it. "
"Shubha G is a great teacher of Sanskrit. Her knowledge, skills and expressions are crystal clear; in all areas like prose, grammar, poetry, recitation, storytelling, chanting, etc. Shubha G also has great patience, and capacity to flow with a variety of students, meeting them at their respective levels. In short, it is a great pleasure to learn Sanskrit from Shubha G."
You can check out more review in My Urbanpro profile
TATTVAM

– YouTube channel
In this channel you will find some interesting Sanskrit content, be it shlokas, subhashitas, kavyas, Sanskrit dramas etc. I also post some Sanskrit rhymes that I composed for the kids. There will be Sanskrit lessons also. And we also have SamvaadaH a forum to just come and practice spoken Sanskrit.
Here are some videos for you from my channel.
I believe Sanskrit is within everyone. It is a natural language and it is definitely there even in your mother tongue. So, only with a little bit of effort anyone can learn Sanskrit. This language is very special in many ways. It is very poetical and very sweet. So speaking and listening to Samskritam gives lot of inner joy. This language gives joy to the heart and at the same time stimulates us intellectually. If you are a very analytical person then you can go deep into Sanskrit grammar and your intellect will get a lot of exercise. All the deep thinking of our ancestors are recorded in this language. So knowing Samskritam is equivalent to having the keys to the treasures of knowledge.
This language truly represents the generous attitude of ancient India. The kind of prayers you see in Sanskrit cannot be found elsewhere. The prayers are always wishing peace and happiness for everyone and not just for oneself. So when more and more people learn Sanskrit there will be more and more peace in the world.
For people donating in INR
For people donating in other currencies