PrarambhaH course is a Level 1 course for adult beginners. This is a highly structured course which will enable you to learn Sanskrit easily.
Course Focuses on building the following skills in Sanskrit:
Listening and Understanding
The lessons will be in the form of short pre-recorded videos. The videos are not very long. Duration of each video lesson will be in the range of 3 to 20 minutes. You will have lifetime access to the lessons.
For 4 months we will have weekly 1 live class. In this session you will be applying the concepts you learnt from the video lessons. You will be making sentences and speaking in Sanskrit. You can clarify all your doubts in this session. Recordings of live sessions will also be given.
You will be able to understand meanings of simple Sanskrit shlokas.
You will definitely be able to understand when you hear someone speak in Sanskrit.
You will be able to read and write fluently in Sanskrit.
You will be able to form correct sentences and write short essays.
You will be able to speak in Sanskrit.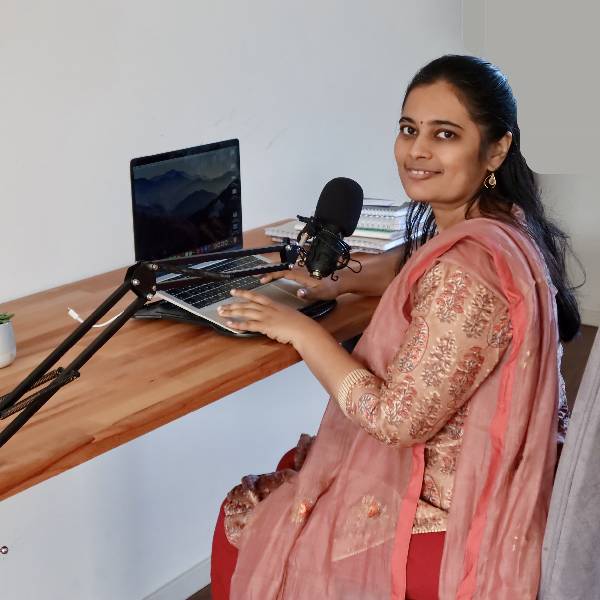 Course duration:
Live classes will be for 4 months.
But you can access video lessons forever.
Materials provided in the course:
Short, structured, pre-recorded video lessons
Worksheets (pdf)
Grammar books (pdf)
Story books (pdf)
Other support:
You will be part of the Whatsapp group of your batch where you can post your doubts and also have discussions related to the subject.
You will also be a part of my Telegram group and Facebook group.
Course fee:
One-time payment: Rs.7500 (Lifetime access to whole course + 4 months of live classes)
Monthly payment: Rs.2000 per month (Lifetime access to monthly lessons + live classes)
If you need further clarifications,

please get in touch with me: