After I was born my parents asked our family 'Vaadhyaar' (priest) to write my horoscope. Shri Doraiswamy vaadhyaar was well versed in Sanskrit and astrology and more than that he was a very pure hearted man. He wrote my horoscope based on my time of birth and immediately said "this girl is going to be a teacher. No matter what she studies, she will be a teacher. She may study medicine but she will land up as a teacher in a medical college but not as a doctor." As I grew up seeing everyone around me becoming engineers and leading nice happy successful lives, I thought happiness and success lies in this thing called Engineering. So I studied the same. My mother used to frequently quote the words of Doraiswamy vaadhyaar saying that you will be a teacher. And I used to get angry at her for saying this very often. I said "becoming a teacher is a sign of failure. Only people who do not get placed in any multinational company will choose to become a teacher. Teaching is boring etc." Fortunately or unfortunately I got placed in 2 multinational companies in my third year of engineering studies and I very happily chose one among them and started working there after completing my studies. I just did not like the corporate atmosphere and I wanted to run away from that as soon as possible. After an year I quit the job and luckily very soon I got married and moved to Chennai. I was very sure that I did not want to land in a corporate office again. So I was experimenting various options like doing a handicraft business, teaching Tanjore painting etc. Nothing seemed to give success or satisfaction. In the midst of my experimenting various fields I simply started teaching Sanskrit to few people but without any intention of making this my profession. As I was teaching I just thought why not do MA in Sanskrit. Again I did not do MA with the intention of becoming a teacher. I always loved this language and just thought of pursuing further studies. I enjoyed studying my MA syllabus especially the various kavyas and dramas like 'Kiratharjuniyam', 'Abhijnanashakuntalam' etc. I completed MA in Sanskrit with very good marks.
One Sunday after coming back from a long morning walk, I just opened our local newspaper and one ad just stuck out for me. It was for a teacher's job in a Waldorf school. Actually a few days before I saw this ad I was reading about this waldorf way of teaching and found it interesting. I just called up the number mentioned in the ad and spoke to the school's management. They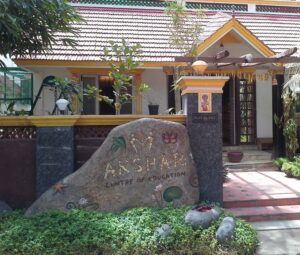 asked me to come to their school Akshar Centre of Education, the next day and I went. I felt so good just at the very entrance of the school. My mind became so calm and happy when I entered the premises. It was a wonderful feeling. Later I had a talk with the principal who briefed me about the way this school, which is very different from other schools, functions. I was impressed and so were they and I was given a job in the school. I joined the school as a Waldorf teacher and not as a Sanskrit teacher. I never thought they will have Sanskrit as a subject in their school. Surprisingly, Sanskrit is a major subject in Akshar and they were also looking for a Sanskrit teacher. So they were very happy and so was I. Joining Akshar as a teacher was one of the best decisions of my life. The school taught me creative teaching skills and much more. I feel it all happened because of the divine will.
I am sure all this is divine plan. I am not a big fan of astrology and I do not visit astrologers. I have more trust in higher powers and feel it will guide us in many ways. May be sometimes the higher power comes in the form of astrologers and guides us. I did not listen to the guidance given to me as soon as I was born. So I wasted so many precious years of my life in the pursuit of happiness. May be all this hard work that went into this pursuit made teaching even more sweet for me. Most importantly this experience has made me listen to my own inner calling rather than the thousands of opinions of the outer world. Also through this experience life has taught me to pay heed to the various clues through which it keeps guiding us.
For the Sanskrit version of this article check this link https://www.tattvam.org/antaratmanah-vacanam-shrotavyam