I started my first online Sanskrit class on November 2018 and I am extremely grateful to all those who trusted me and joined my class. It was a wonderful batch with a bunch of very nice people of different ages. One among them was Ms.Shobha Varthaman. She joined a bit late but picked up the language very well. She is a very sincere student who does all the homework given and attends the class on time. If she is unable to attend then she always sends me a message. On 27th February I was taking my online class as usual. I noticed that Ms.Shobha was not in the class and I had not received any message from her. Anyways, I went ahead with my class. After 20 minutes Shobha logged into the class and she raised her hand and wanted to speak. Shobha said "Shubha, today I am unable to attend the class, because my son is in the news. Wing commander Abhinandan Varthman who landed in Pakistan today is my son." I had goosebumps when I heard what Shobha was saying. I am sure everyone in the class experienced it. Others in the class were telling Shobha that her son will definitely return back safely and that everyone will pray for him. Then Shobha logged out of the class. One thing which I noticed was that Shobha was very calm through out.
Later after her son returned back safely she had been to Delhi to see him. After coming back to Chennai she started coming to the class as usual. After the class I spoke to her about this incident. I was asking her many things and she shared few things with me. After listening to this particular thing, which I share here, my respect for the defence personnel increased multi-fold.  The incident goes like this. Somebody approached Shobha and her husband and said that he has connections with the top political leaders i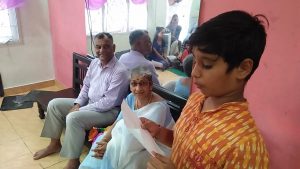 n the central government and asked the Varthamans to get in touch with them to talk about bringing back their son to India. For this the retired Air Marshal, Mr. Simhakutty Varthaman said "For me country comes first and son comes next. The government is doing what it has to do and I will not pressurize the government." Listening to this I understood the kind of mindset and dedication the defence personnel have towards the safety of the country. The Varthamans did not speak to any channel or newspaper. They did not take any publicity.
After discussing with the management of my school, I invited Ms.Shobha and Mr.Varthaman to my school to address the kids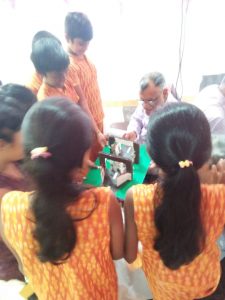 and the parents. And they agreed to visit the school and address the kids. Shobha told me beforehand to tell the school management not to give any momentos and shawls. Instead she said she would be happy to accept any art or craft done by the kids. One Saturday the Mr and Mrs Varthaman came to Akshar center of education and addressed the kids and the parents. Mr.Varthaman spoke very nicely to the kids. He made his speech very interactive and in simple words he told the kids about the purpose of the Indian Defence. The kids thoroughly enjoyed his session. Ms. Shobha Varthaman is a doctor and also a member of an NGO named 'Doctors without borders'. As a part of the NGO she has visited many war affected places to render her medical services. She addressed the parents on parenting. Since Akshar is an alternative school, parents become skeptical now and then about the Waldorf system of education. The people in their circle would be sending their kids to regular schools and discussions among them will cause some confusion about their decisions. But after listening to Shobha's talk they felt very confident about their decisions and got inspired.
Again this year on 13th August, as a part of the Independence day celebrations the school invited the Varthamans to address the kids. It was an online gathering due to covid-19 situation. Though I am in Netherlands, I was able to be a part of this gathering since it was online. Once again The Varthamans inspired all of us. Mr.Varthaman spoke excellently to the kids. He spoke a bit about India's independence, its consequences, Dr.Lal Bahadur Shastri's green revolution etc. The kids asked him many questions about the Indian Airforce. Answering to those questions Mr.Varthaman showed them his medals which he received from the President of India. He also told about the various ranks in Air force. I learnt that above the Air Marshal there is only one position above which is the Chief Air Marshall. Along with the kids I too enjoyed his session.
Then Mrs.Varthaman spoke about the 3 mothers in our lives : The mother who gave birth, mother tongue and mother land. She discussed with kids on what these mothers have given us and then about what we can do to these mothers. It was a wonderful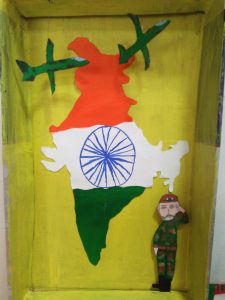 talk which inspired me to think on these lines. She also mentioned one wonderful practice which I am going to practice. She asked the kids to thank these 3 before eating food "Thanks to mother earth for the food, thanks to the farmer for producing the food and thanks to mother for cooking it". Regarding what we can do to give back to our mother tongue, she asked the kids to speak well in their mother tongue and also to learn to read and write their mother tongue. She made a very important point here and said that through the mother tongue you get the culture. One very important point that she said while talking about how to give back to your motherland really touched me. She said to serve your motherland its not mandatory that you should join the military. Wherever you are (in India or abroad), whatever you do, give your best, be the best in your job. This will bring good name to your motherland. She quoted from her own experience of seeing the difference in the way people look at Indians now versus the way they used to look at Indians in 1974 when she had been to London for her higher studies.
I am very happy to have known Shobha and privileged to have her in my class. On this Independence day I thank all those people who are protecting the country and all those who are excelling in their fields and bringing glory to India. Jai Hind!!
To read the Sanskrit version of this article, check this link https://www.tattvam.org/deshabhaktih/