In a Waldorf school everything starts with a silent time. Be it a story session or a birthday celebration or even a teachers' meeting.
The school starts at 9.00 a.m but for teachers it starts at 8.50 a.m. Those 10 minutes are reserved for teacher's silent time. At 8.50 we all gather and sit in a circle and also sit in silence with closed eyes. I still remember vividly my first silent time in school. When I closed my eyes being in that circle I could clearly see and feel the presence of my guru Sadguru Sridhara swamiji. For me it meant I have made the right decision by joining this school and it did prove to be so.
Everyday after observing silence for few minutes all of us teachers recite this beautiful verse in chorus. The verse goes like this:
"We have the will to work,
that into this our work may flow,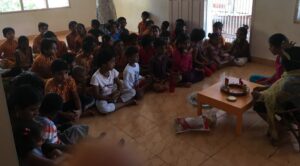 that which from out of the spiritual worlds
working in soul and spirit, in life and body,
strives to become the human being within us."
"Do not judge, but listen,
do not wonder, but look.
Love them all."
On one of the Saturdays, during teacher's discussion time, Pushparaj sir, the founder and director of Akshar asked us " Why do we do silent time daily?"
We answered saying "to calm and relax our minds". Sir said "that's right", but he gave another beautiful dimension. He said " when two or more people come together, sit in a circle and observe silence, the divine force or divine energy starts flowing there. So when we set the divine force in action and ask this divine energy to do it's work through us, and surrender to it completely, everything will go on very nicely."
He further said "the Waldorf system not only focuses on the improvement and spiritual development of kids, but also on that of  the teachers."
Such profound thinking and practices make Waldorf system of education very special.